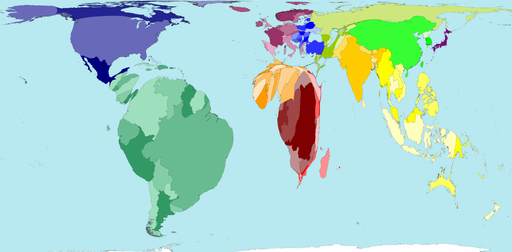 Groundwater is water that has infiltrated rocks, and moved deep into the ground. Groundwater usually travels through permeable rocks, and sometimes forms underground rivers. Nearly 70% of all freshwater is groundwater, making it an important water source.Groundwater recharge is when the water stored below ground is replenished. Each year 11 400 cubic kilometres of surface freshwater becomes groundwater. In many places this is not enough to replenish water being withdrawn.
Regionally South America has the most groundwater recharge. The lowest is in Japan.
"Groundwater is a vast and slow moving resource, whose volume greatly exceeds that of other available fresh water sources." University of New South Wales Groundwater Centre, 2006
Territory size shows the proportion of worldwide groundwater recharge occurring there.