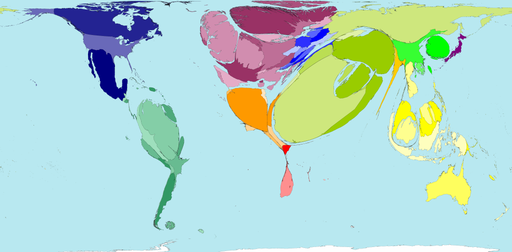 Fuel includes oil, gas, coal, nuclear and traditional fuels. The Middle East is the region that exports the most fuel. The two biggest fuel exporters are Saudi Arabia and the Russian Federation, both are included in the Middle East region. The third biggest exporter is Norway, in Western Europe. These major exporters are known for their reserves of oil and gas, rather than coal and traditional fuels.
Of the 200 territories mapped, only 123 are fuel exporters. Often territories import and export fuel. Many of the territories that appear not to export fuel also do not record fuel imports. This is partly because of poor data recording in some places.
"... the achievement of high human development indicators in some countries, such as Norway, has been enabled by services funded in part through natural resource exploitation." Melissa Dell, 2004
Territory size shows the proportion of worldwide gross fuel exports from there.