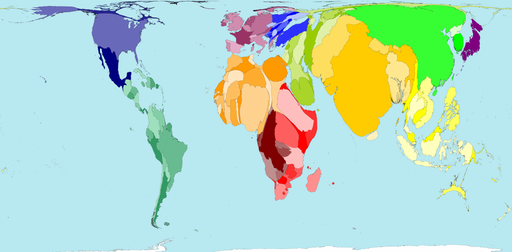 By 2300 the United Nations forecasts that the global population will be just under 9 billion. World population is expected to rise, peak and then decline slightly between 2050 and 2300. The highest long term population growth is predicted for Africa. Africa is currently underpopulated and has the lowest life expectancies. Other regions' populations are predicted to stay level or decline. Between 2050 and 2300 the areas currently known as India, China, the United States and Pakistan maintain their ranked order as having the world's highest populations. The numbers shown here are estimates - based on predicted future behaviours.
"... if fertility levels remain unchanged at today's levels, world population would rise to 244 billion persons in 2150 and 134 trillion in 2300, clearly indicating that current levels of high fertility cannot continue indefinitely." Population Coalition, 2005
This map shows the predicted distribution for the estimated world population in 2300.