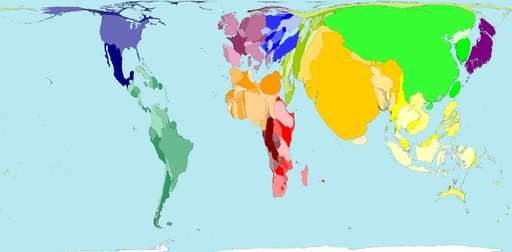 The ten territories where men spend the fewest hours everyday doing paid work are all in the Middle East. However regions other than the Middle East are where the average man spends least time doing paid work. In Eastern Europe, Western Europe and North America the average man spends 4 hours and 30 minutes doing paid work. This is almost half of the time spent working by the average man in Central Africa. In Central Africa the average man does paid work for 8 hours and 6 minutes everyday.
Taking averages means that those men who cannot and do not work, are included with those who work considerably longer than the average.
"If a machine wears out in half the present normal time ... a new machine has to be made to replace it ... but if a man wears out in half the time, the world is poorer, and that needs no demonstration." William Hesketh Lever, date unknown
Territory size shows the proportion of all hours of paid or market labour worked by men there.