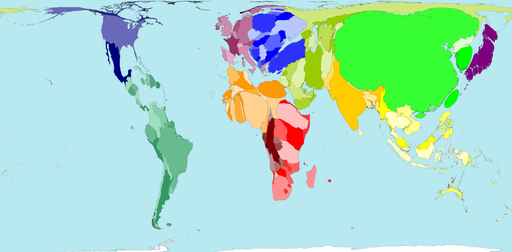 Of all trips to work made in the world, 35% are on public transport. Public transport includes buses, trams, trains and minibuses. The definition of transport being public, as used here, is that transport is used on a fare paying basis. However, transport by taxi, ferry, rickshaw and animal are not included here regardless of whether fares are paid.
The highest use of public transport is in Bosnia Herzegovina, where 47% of the whole population use public transport to commute. Given that under half the population is economically active, this means that almost everyone who lives in Bosnia Herzegovina travels to work using public transport.
"… with the opening of Beijing's first exclusive Bus Rapid Transit (BRT) line on December 30, car owners may soon be jealous of bus riders …" Yingling Liu, 2006
Territory size shows the proportion all people worldwide who travel to work using public transport that live there.