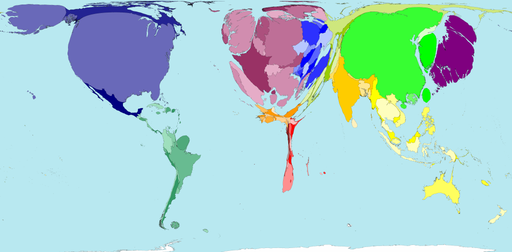 The total income of women is highest in the United States, and second highest in China. Women in the United States have a high total income because on average they are some of the highest paid women in the world. Women in China earn below the world average, but they have high total earnings due to the large population of China.
Norway and Denmark are home to women with the highest annual earnings per person in the population. Women living in Yemen and Sierra Leone earn 150 to 250 times less per person. Income is measured here in its purchasing power where it is earned, rather than being adjusted to be made comparable using a simple exchange rate.
"In a growing number of marriages, itís the woman who is bringing home the big paycheck. Is she stressed? Yes. Resentful? A little. Would she trade places with her husband? Not on your life." Kimberly Goad, 2006
Territory size shows the proportion of worldwide womenís earnings measured in local purchasing power, earned there."