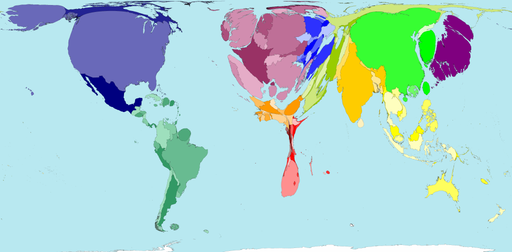 Central Africa is the region with the lowest earnings per person amongst the richest fifth of the population of each territory. The anomaly in this region is Equatorial Guinea, where the world's fourth highest earnings per person in the richest fifth of the population are found. Equatorial Guinea is quite small on the map due to its tiny total population of 500 thousand. The Democratic Republic of Congo and Burundi, also in Central Africa, are home to some of the poorest 'richest fifths of population'.
The regions where the richest fifth make the most money are North America, Western Europe and Japan.
"The 51 year old former racecar driver and millionaire businessman was apprehended in his pajamas by South African police, who ... accused him of helping to finance a botched coup ... in the oil-rich state of Equatorial Guinea." Vivienne Walt, 2004
Territory size shows the earnings of the richest fifth of the population living there, as a proportion of the earnings of the poorest tenth living in all territories.