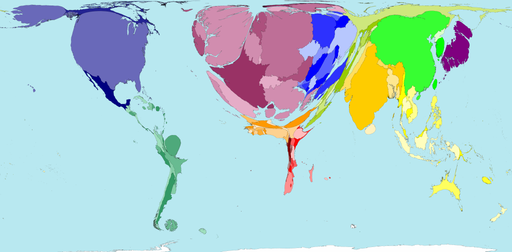 By the 1900s Western Europe had experienced an industrial revolution. Workers who may previously have performed all stages of a production process in their own homes were now in mechanised factories with a greater division of labour. This increased efficiency and therefore output.
In the period between 1500 to 1900 the world average of Gross Domestic Product per person had doubled. The world population had also risen over this period, thus the rise in total Gross Domestic Product was even greater than the per person increases. In 1900 the world total was US$2 trillion when expressed in 1990 purchasing power parity.
"The industrial revolution ... enormously increased the capacity of some groups, mostly Europeans at first, to produce goods and services. It greatly altered the distribution of wealth and poverty around the world ..." National Centre for History, 2006
Territory size shows the proportion of worldwide Gross Domestic Product measured in US$ equalised for purchasing power parity that was produced there in 1900.