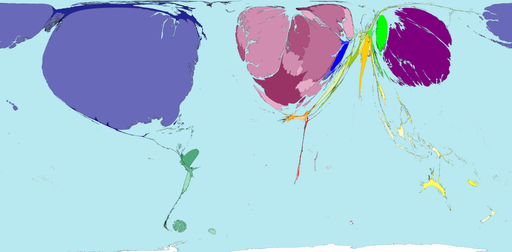 Over half (53%) of the value of all royalty and license fees paid in 2002 were received in one territory: the United States. Large proportions of these fees were also received in Japan and the United Kingdom.
These fees are the payments made by someone who wants to use an idea, invention or artistic creation that legally belongs to someone else. To receive these fees a copyright or patent is needed, which may remain active for years after the initial invention. Thus of the US$44 billion received as royalty and license fees in the United States in 2002, much will be revenue from work that was completed prior to that year.
"The fight over royalties is a time-honored one in Hollywood, with actors, directors, and writers often at odds with the studios …" Bryan Chaffin, 2005
Territory size shows the proportion of worldwide earnings (in purchasing power parity) from royalties and license fees that are earned there.