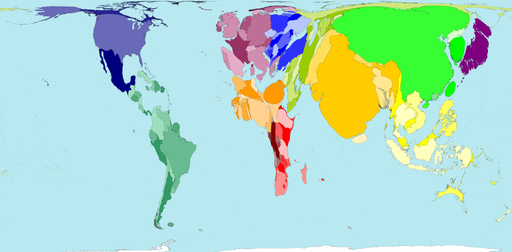 The map shows the population of each territory multiplied by the Human Development Index of the United Nations Development Program. This is a measure of quality of life. It combines measures of health, wealth and education in a territory.
In 2004, an optimum score of 1000 was achieved where life expectancy was 85 or more years, adult literacy was 100%, school enrolment was 100% and the Gross Domestic Product is US$40 000 or more per person per year.
Norway has the highest score of 956; Sierra Leone has the lowest score of 273. The world average is 698.
"The United Nations' human development index includes information about ... life expectancy, literacy and educational achievements, as well as financial wealth, to give a more comprehensive view of what life is all about." Alan Rusbridger, 2004
Territory size shows the proportion of worldwide human development of the total world population (population multiplied by human development index), found there.