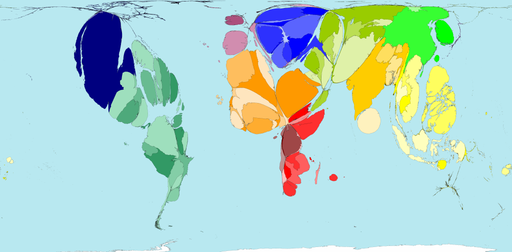 Over half of the territories in the world are currently experiencing net emigration. More people are leaving them than are coming to them. Territories with net emigration generally are poorer than those with net immigration. Mexico is the country with the highest net emigration, with a net loss of 8.8 million people in 2000. Mexico is in North America, the region whose territories have the largest net immigration. The United State's high immigration rate is linked to Mexican emigration. Were the United States and Mexico combined to be one territory then this movement of people would not be recorded as immigration nor emigration.
"They are trying to abandon their misery and get to countries which supposedly have better living conditions" Enrique Santiago, 2005
Territory size shows the relative quantity of net emigration in all territories (emigration less immigration).