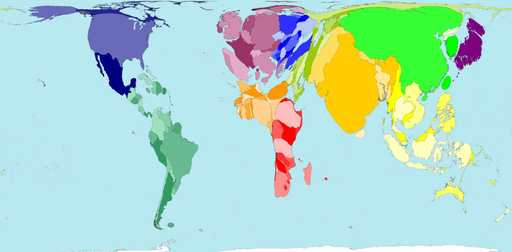 This map shows how populations rate on the Gender Empowerment Measure. This measure is an indicator of opportunities for women. It takes into account the female share of parliamentary representation; proportions of legislators, senior officials, managers, professional and technical employees who are women; and the ratio of female to male earnings. By this measure no territory has as good opportunities for women as there are for men.
The territories where women have the most opportunities are in Western Europe. The fewest opportunities for women are in the Middle Eastern territories of Yemen and Saudi Arabia. There was no data for any territory in Central Africa.
"In many countries, women own nothing, inherit nothing and earn nothing. Three out of four of the poorest billion people of the world are women." Gro Harlem Brundtland, 2006
Territory size shows the relative degree of gender equality for the people living there (population multiplied by gender empowerment measure).