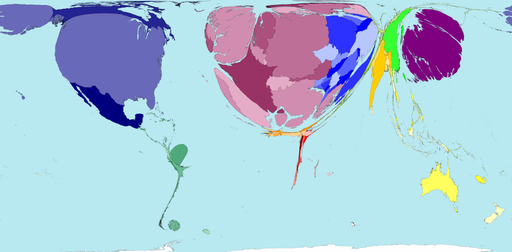 In more that three quarters of territories fewer than 10% of the population has access to toilets that are connected, via sewers, to a waste water treatment plant. In 8 regions less than 5% of people are connected to sewerage systems.
Sewerage systems remove waste from housing areas and treat it. This helps to reduce contamination of water courses used for drinking and washing water. Only very good pit latrines or cesspits do the same job.
In six territories over 90% of people are connected to sewerage systems, the highest is the Netherlands with 98% connected.
"Rich societies have developed quite complicated and expensive systems for removing human wastes from houses and cities, usually by dumping them, treated to one degree or another, into subsoils or bodies of water." Peter Bane, 2006
Territory size shows the proportion of all people that have their toilets connected to public sewerage systems (and thus waste water treatment) that live there.