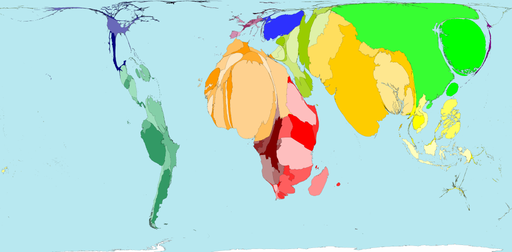 Over the period from 1990 to 2001, the population living in slums increased by 220 million. The largest growth was in Southern and Eastern Asia. These regions already had the largest total populations living in slums.
The biggest increases in population living in slums were in China, India and Nigeria. These territories have the largest populations in each of their respective regions.
Poorer territories have experienced greater slum growth than richer territories. Nevertheless, the number of people living in legally insecure housing of poor quality has increased in 85% of territories from 1990-2001.
"Everyone here wakes up in anger. People find it very hard and it is getting worse. Day in, day out, poor people from all over Africa arrive in this place, still seeing Lagos as the land of opportunity." Daga Tola, 2006
Territory size shows the proportion of all extra people to start living in slums between 1990 and 2001, that live in slums in that territory.