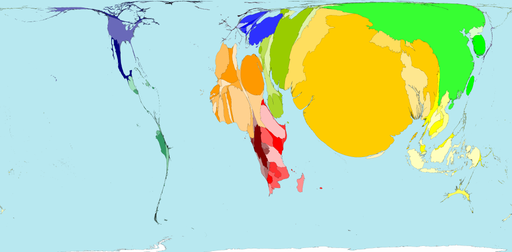 In South American and Western European territories men and women have very similar levels of literacy. Elsewhere, particularly in India, China, Pakistan and the Islamic Republic of Iran, there are much larger numbers of women who cannot read or write compared to men living there. Male and female literacy rates in Yemen are 69% and 28%, in Nepal they are 62% and 26%, in Mozambique they are 62% and 31%, and in the Central African Republic they are 64% and 34%, respectively.
"... illiteracy is essentially a manifestation of social inequality, the unequal distribution of power and resources in society." Bharati Silawal-Giri, 2003
Territory size is proportional to the number of illiterate women aged 15 years and over, minus the number of illiterate men of the same age in the same territory. Only territories with greater female illiteracy have an area.