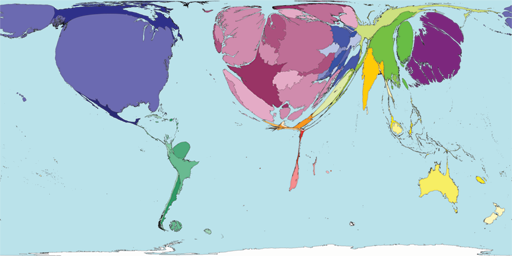 Scientific papers cover physics, biology, chemistry, mathematics, clinical medicine, biomedical research, engineering, technology, and earth and space sciences.
The number of scientific papers published by researchers in the United States was more than three times as many as were published by the second highest-publishing population, Japan.
There is more scientific research, or publication of results, in richer territories. This locational bias is such that roughly three times more scientific papers per person living there are published in Western Europe, North America, and Japan, than in any other region.
"Scientific research is as much the product of the society that enables it, as of the individuals who author it." David Dorling, 2006
Territory size shows the proportion of all scientific papers published in 2001 written by authors living there.