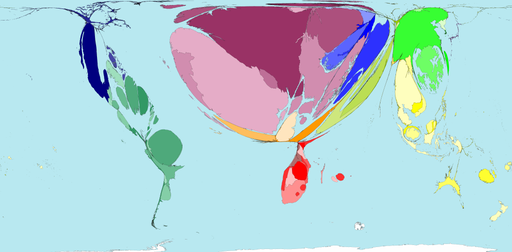 This map shows those territories that receive more international tourist visits than international visits are made by their residents. The territory sizes compare net levels of international tourism (tourists-in minus tourists-out). Many countries are absent from this map because they have net out tourism.France and Spain together receive over one third of world net tourism. Spain, which receives fewer visits than France, is visited three times more than the next three territories with high net tourism: they are Austria, Italy and China.
"For my part, I travel not to go anywhere, but to go. I travel for travelís sake. The great affair is to move." Robert Louis Stevenson, 1879
Territory size shows the number of tourists received less those leaving each year.