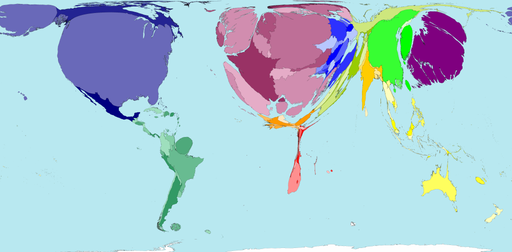 Public health spending is all government spending on health care, plus money from grants, social insurance and non-governmental organisations. Public health spending reduces, or even eliminates, the direct cost of health care to an individual.
The highest public health care spending per person is in the regions of Western Europe, North America and Japan. Luxembourg, Norway and Iceland are the territories with the highest per person spending. As this map of spending is adjusted for purchasing power parity, the size of a territory compares more directly what can actually be funded by this spending. However costs will still vary.
"... I brought my little girl to the health center in my district in the south of Bujumbura. But the nurse wouldn't see us as I didn't have any money to pay for the consultation." Simeon, 2004
Territory size shows the proportion of worldwide spending on public health services that is spent there. This spending is measured in purchasing power parity.