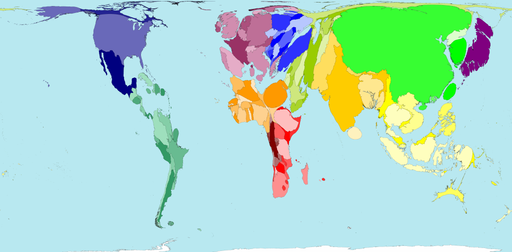 This map shows where people with access to essential and affordable medicines live. The World Health Organisation (WHO) defines essential medicines as those that satisfy the priority health care needs of the population. The WHO states that these should be available in adequate amounts, with assured quality and accompanying information, at prices that are affordable to the community and individuals.
Of the total world population, 69% have access to affordable essential drugs. That means 1.9 billion people live without access to these drugs.
"An Indian company ... has challenged global orthodoxy and conscience by offering Aids treatment at US$350 a year – the same cocktail costs US$15,000 a year in the developed world." Salil Tripathi, 2004
Territory size shows the proportion of all people with access to affordable essential drugs who live there.