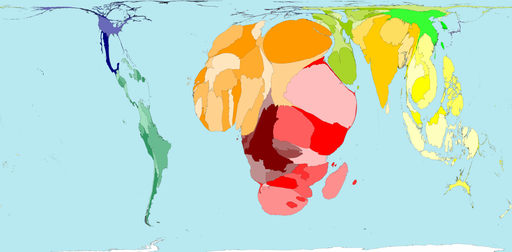 Trachoma affects 128 million children and over twice as many adults. Infection of the inside of the eye causes scarring. This can eventually turn the eyelids inwards so that the eyelashes start to rub against the eye. This can cause blindness. The trachoma microbe is transmitted between people's eyes by flies or through contact with fluids from the eye. It is cheap to treat trachoma in its early stages, in later stages eyelid or corneal surgery may be required.
The World Health Organisation notes that trachoma is associated with poor socioeconomic conditions, such as overcrowding, limited access to water and poor sanitation.
"Repeated infections over the years cause ever-greater scarring, which finally results in the eyelids turning inwards. And then the real torment starts." Sightsavers International, 2006
Territory size shows the proportion of all children worldwide with evidence of trachoma, that live there.