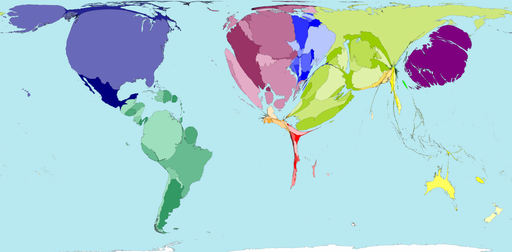 Influenza, commonly known as flu, has huge fluctuations in prevalence over time. In Argentina in 2001 there were sizeable outbreaks of influenza lasting for 8 weeks. These 8 weeks were during the cold season (end of July to early September).
This map shows the length of time that people have been exposed to influenza outbreaks between 2000 and 2005. The populations of the Russian Federation and Colombia experienced influenza outbreaks 20% of the time, so they appear large on the map. Influenza outbreaks affect whole communities, not just those who catch it.
"With limited vaccine supply, uncertainty over who will be at highest risk of infection and complications ... society faces a fundamental ethical dilemma. Who should get the vaccine first?" Ezekial Emanuel, 2006
Territory size shows the proportion of people worldwide living where there is an influenza outbreak, per week, between 2000 and 2005.