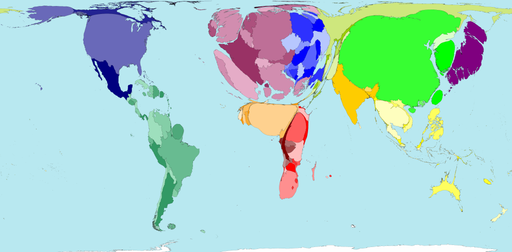 The average Western European drinks over a third more alcohol than the average person living in any other region. The lowest alcohol consumption per person is found in Southern Asia, where on average people drink less than a third of the average consumption elsewhere.
In some territories there is practically no alcohol consumption. Many Middle Eastern and Northern African territories are not visible on the map for that reason. In contrast, China, the United States and the Russian Federation have the largest areas on the map, because the most alcohol is consumed there by large populations.
"In South China, when a baby girl is born, her parents will brew alcohol for her, bury it underground and keep it until she marries." Travel Guide China, 2006
Territory size shows the proportion of worldwide alcohol, adjusted for absolute alcohol content, that was drunk there in 2001.