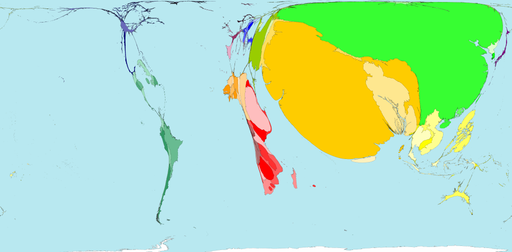 Disasters are events that overwhelm local capacity, causing destruction and suffering, and necessitating a request for outside help. Disasters include droughts, epidemics, volcanoes, storms, fires, and events caused by accidents or indirectly caused by wars. Being affected by a disaster here means requiring assistance to survive, for example shelter, water, sanitation, medication and food.
Of all people affected by disasters between 1975 and 2004, 43% live in Southern Asia, 41% live in Eastern Asia, and 5% live in Southeastern Africa.
"We cannot prevent disasters ... What we hope to do is to be more proactive, to be better prepared so that we can react better, faster." Winston Choo, 2006
Territory size shows the proportion of all people worldwide affected by disasters between 1975 and 2004, that live there. Being 'affected' includes requiring emergency assistance for basic survival, and catching an infectious diseases not usually found there.