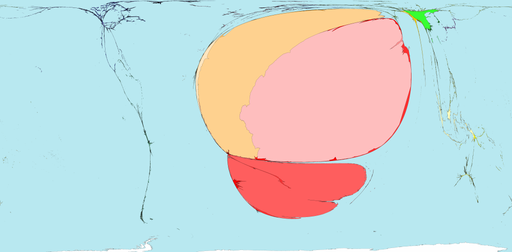 Of all drought-related disasters between 1975 and 2000, 98% of deaths occurred in just three territories: Ethiopia, Sudan and Mozambique. There were an estimated 560 thousand drought-related disaster deaths worldwide during this period, occurring in just 20 of the 200 territories that are mapped.
A sustained drought can result in crop failure, deaths of livestock and ultimately deaths of people. Unlike other disasters, droughts are slow to unfold and may continue for years.
"People cannot survive on just three glasses of water a day when the temperature is hitting 40 degrees." Mohamed Elmi, 2006
Territory size shows the proportion of all people who have died in disasters due to drought, who died there. A disaster is an event which overwhelms local resources.