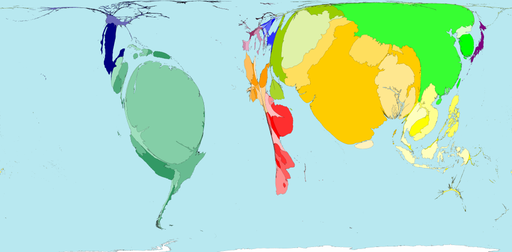 Between 1975 and 2000, over 170 thousand people were killed by floods. Flooding kills people in every region of the world. The count of flood deaths is highest in South America, Southern Asia and Eastern Asia. Central Africa, Japan and Western Europe each account for less that 0.6% of flood deaths.
Venezuela is the territory with the most flood deaths per million people per year, when calculated over a 26 year period. However, 99% of these deaths in Venezuela occurred in 1999. This was also the year when the most flood deaths worldwide occurred.
ôVillagers were caught unaware in their sleep. So many were washed away before they could react to the sudden flow of water ..." Biju Boro, 2004
Territory size shows the proportion of all people who have died in disasters due to floods, who died there, 1975-2000. A disaster, here, is an event that overwhelms local resources.