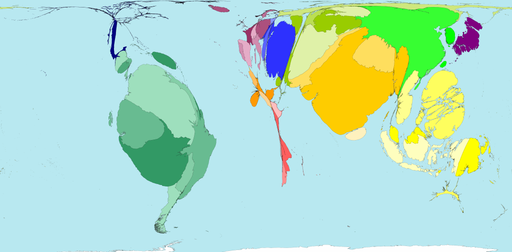 Between 1975 and 2000 almost 17,000 people have been killed in landslides and avalanches worldwide. That is a rate of 1 person per 10 million dying this way every year. 69% of territories experienced no deaths from this during that period.
The most deaths occurred in India, China, Colombia and the Philippines. They were caused by the downhill movement of snow, ice and rock (avalanches), or soil and rock (landslides). Often there is a trigger to start the slope movement such as a passing skier or an earthquake, which then progresses due to gravity.
"On 9 May 1993, at 1:30 pm ... 'Las Brisas' - comprising around 150 shanty housing, an estimated 300 people - were reported to have been buried by a gigantic landslide from 'El Tierrero' mountain." Department of Humanitarian Affairs, 1993
Territory size shows the proportion of worldwide deaths in disasters due to avalanches and landslides that occurred there between 1975 and 2000. A disaster, here, is an event that overwhelms local resources.