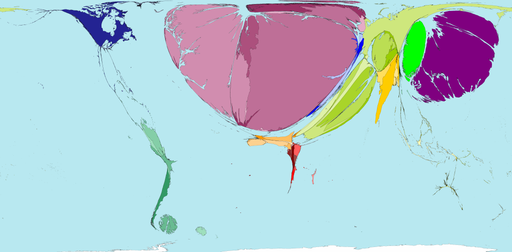 This map shows the territories whose residents spend more on trips abroad than foreign tourists visiting spend in that territory. For example Japanese tourists spend US$36,506 million whilst on holidays abroad, whilst foreign tourists in Japan spend only US$10,904 million. Therefore Japan had a net financial loss of US$25,602 million (in 2003).
The largest net losers are Germany (US$44 billion), the United Kingdom (US$29 billion) and Japan (US$26 billion). The highest per-person net losses are made in Kuwait and the United Arab Emirates, losing US$1,433 and US$894 per head of population respectively (in 2003).
" I have to say that the stereotype is true - German people do reserve all the loungers." Ralph Höcker, 2005
Territory size shows the relative levels of US dollars lost due to a territory's out-tourists spending more abroad than foreign tourists spend when visiting that territory.