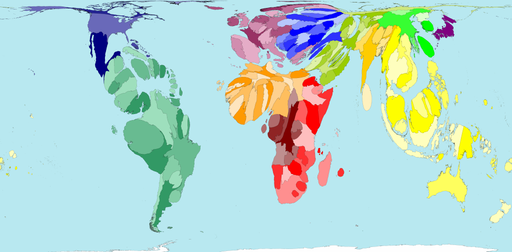 Worldwide 3,700 animal and plant species almost fit the criteria of threatened species, or are predicted to be at future risk. There were 13,185 species at a lower risk of extinction in their local environment. Indonesia had most near-threatened species at 471 (shown on this map) in addition to 833 threatened species (not shown on this map). Ecuador had 402 in addition to 2151 threatened species; Malaysia had 401 in addition to 892.
The map of species at risk is dominated by a few territories; on it 178 territories were barely visible. On this map only 12 territories are that small.
"Tylototriton shanjing is a crocodile newt ... over-harvesting for use in traditional Chinese medicine is becoming a serious threat. It is also becoming popular in the international pet trade." World Conservation Union, 2004
Territory size shows the proportion of animal and plant species locally classified as at a lower risk of extinction, conservation dependent or nearly qualifying as a threatened species there. Species already classed as threatened are not included.