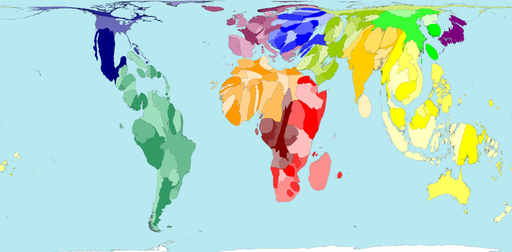 In 2004, 5,416 species of mammal were considered to be threatened; 1,101 species were at risk of global extinction. In the average territory, over 14 mammal species were at risk of local extinction. These include: the Verreaux's Sifaka Lemur of Madagascar, whose deciduous forest habitat is being cleared for timber, firewood and charcoal production; and the Channel Islands Fox which is hunted by Golden Eagles.
Mammal species are at risk in almost all territories. Where no mammals were reported to be at risk, territories are generally very small. The most mammal species at risk were in Indonesia, at 146. There were 85 mammal species at risk in India, and 80 in China.
"Threats to the island fox include loss of habitat, habitat changes resulting from the introduction of new herbivores, competition with feral cats, diseases brought by domestic dogs, and car accidents." Sonia Liu, 2006
Territory size shows the proportion of mammal species assessed as locally at risk of extinction, found there.