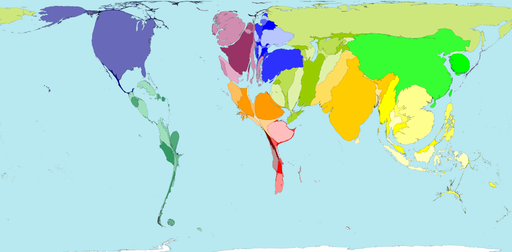 This map shows time spent at war by armed forces. A large area on the map could mean small forces fighting for many years; large forces fighting for a few years; or something in between. Years not at war, when armed forces were on stand-by, are not included.
Between 1945 and 2004 on average almost 12 million people were employed in the armed forces of territories at war for all or part of each year, over half were in just 4 territories. 22% were in the Russian Federation, 14% in China, 11% in the United States, and 8% in India. The largest territory that avoided war throughout was Japan, followed by Sweden, Austria and Singapore.
"War goes deeper than bombardment, and the more we pretend it doesnít concern us, the more it invades us ... bringing out things we didnít know about ourselves." Slavenka Drakulic, 1999
Territory size shows the proportion of time spent at war by armed forces worldwide from 1945-2004.