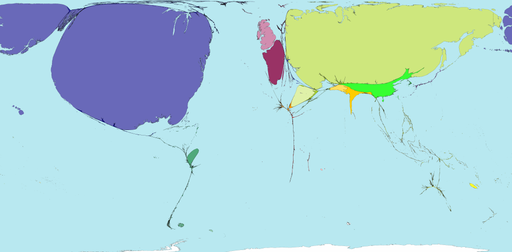 In 2002, 8 territories were known to have or suspected of having strategic nuclear weapons. These territories were: the United States, the Russian Federation, France, China, the United Kingdom, Israel, India and Pakistan. If other territories do have strategic nuclear weapons, they probably have fewer than those listed above, so would not much alter this map. The United States, estimated to have the most nuclear weapons, has 240 times more than Pakistan, with the fewest.
An international "Treaty on the Non-Proliferation of Nuclear Weapons" has been designed to stop the spread of nuclear weapons. This treaty was adopted in 1968. By March 2002, 187 parties had signed this treaty.
"Nuclear weapons are clearly inhumane ... it is inevitable that the horror of Hiroshima and Nagasaki will be repeated - somewhere, sometime - in an unforgivable affront to humanity itself." Takashi Hiraoka, 1995
Territory size shows the proportion of worldwide strategic nuclear weapons that territory is suspected of having.