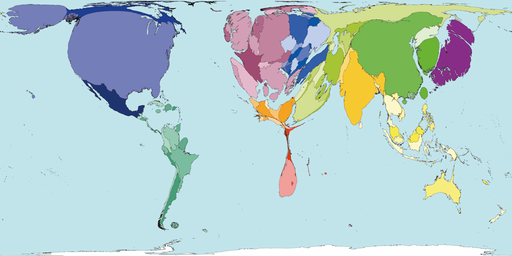 Carbon dioxide causes roughly 60% of the 'enhanced greenhouse effect' or global warming resulting from certain gases emitted by human activities. In 2000 there were almost 23 billion tonnes of carbon dioxide emitted worldwide. Of this, 28% came from North American territories; 0.09% came from Central African territories. Emissions of carbon dioxide vary hugely between places, due to differences in lifestyle and ways of producing energy. Whilst people living in 66 territories emitted less than 1 tonne per person in 2000; more than 10 tonnes per person were emitted by people living in the highest polluting 21 territories that year.
"If the world does not learn now to show respect to nature, what kind of future will the new generations have?" Rigoberta Menchú Tum, 1992
Territory size shows the proportion of carbon dioxide emissions in 2000 that were directly from there.