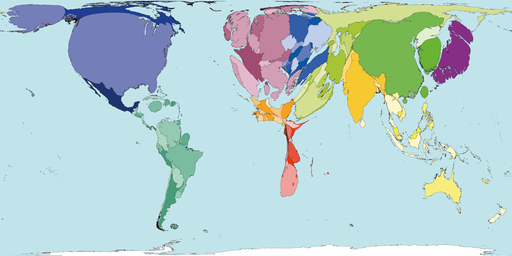 Greenhouse gases trap heat in the earth's atmosphere, causing it to warm up. The greenhouse gases shown here are carbon dioxide, methane and nitrous oxide. These gases account for 98% of the greenhouse effect. Other greenhouse gases, not shown here, are various fluorocarbons and sulphur hexafluoride.
The territories that emit the most greenhouse gases are the United States, China, the Russian Federation and Japan. However, the most emissions per person are in Qatar: equivalent to 86 tonnes of carbon dioxide per year. Qatar has significant oil and gas reserves, and in 2002 was populated by 600,000 people.
"Now during high tides, the water comes right across the ground, where the houses are, and it never happened before ..." Elia Tauita, 2002
Territory size shows the proportion, by their global warming potential, of all greenhouse gas emissions that come from there.