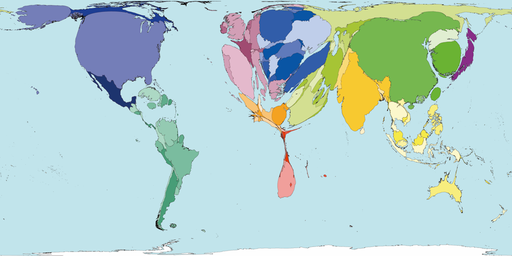 Sulphur dioxide is released when fossil fuels containing sulphur are burned, the amount released is shown here. It is also emitted by volcanoes and forest fires. Sulphur dioxide is harmful to plants, animals and buildings. Sulphurous smog from coal fires can be fatal. When dissolved in atmospheric water sulphur dioxide becomes sulphuric acid, causing acid rain. Acid rain can damage forest and water-based ecosystems.
In 2002, 97 million tonnes of sulphur dioxide were emitted by burning fuel worldwide. The highest emissions when expressed per person were in Bulgaria, the lowest were in the Democratic Republic of Congo.
"A bluish haze hangs over the Indian capital ... vehicles crawl bumper to bumper in rush hour, emitting diesel fumes, lead, sulphur dioxide and carbon monoxide" Sanjoy Hazarika, 1994
Territory size shows the proportion of all sulphur dioxide emitted from the burning of coal, lignite and petroleum products there.