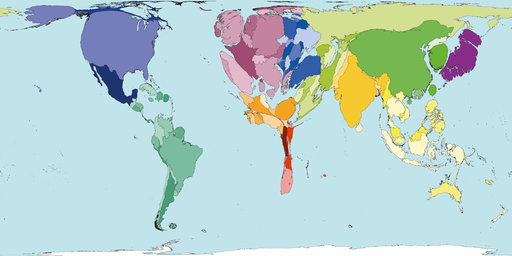 This map shows waste collected from homes, schools and businesses. This waste takes the forms of packaging, paper, organic waste, and bulky waste such as fridges and mattresses. The most waste is produced in China, where the biggest population lives. The most waste produced per person is generated in the Russian Federation.
Very small amounts of waste are generated per person in Madagascar, Burkina Faso, Nepal and Costa Rica. In Nepal, and most other territories in the world, it is much more common to reuse containers than in richer territories. Containers in rich territories are often treated as single-use items. What is defined as waste, and thus disposed of, varies internationally.
"How many of us feel happy about the amount of plastic and packaging we ram into bins? We produce a ludicrous amount of waste ... It is completely crazy, a gross waste of the planetís resources ..." Jackie Ashley, 2006
Territory size shows the proportion of all municipal waste generated worldwide that is generated there.