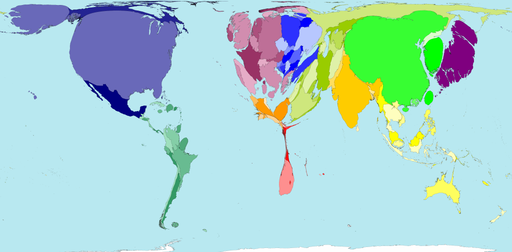 This map shows estimated carbon damage due to emissions. Carbon damage is estimated by the World Bank as being US$20 per tonne of carbon dioxide emitted. Another way to show carbon damage would be to show the variable costs incurred due to varying effects of carbon emissions. Carbon damage could also be measured in non-economic terms.
One problem in showing carbon damage is that we do not yet know the precise form, distribution and severity of the damage from global warming. This map shows what a uniform financial fee for carbon emissions would be: 25% would be paid by the United States, 18% by China, and 11% by Western Europe.
"Can there be compensation for the loss of a country, its history, its culture, its way of life? How do you put a price on that? Who will pay it?" Eun Jung Cahill Che, 2002
Territory size shows the proportion of all carbon damage caused by that territory. This is measured as the weight of carbon dioxide emitted; carbon damage is assumed.