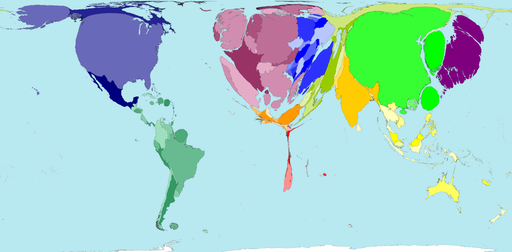 In 2002 there were just over a billion mainline telephones worldwide. This is almost double the number in 1990. The six territories with the most mainlines were located in different regions, they were: China, the United States, Japan, Germany, India and Brazil. The fewest mainlines were in Andorra and Niue.
As in 1990, by 2002 the regions where the most mainlines per person were found were North America, Western Europe and Japan. The largest increase in mainlines per person, however, was in Eastern Asia. There were roughly ten times more mainlines (in total and per person) in Eastern Asia in 2002 than in 1990.
"... every time you change your mobile phone for the latest model you are helping to fuel war in Congo ..." Michael Bond, 2001
Territory size shows the proportion of all telephone mainlines that were found there in 2002.