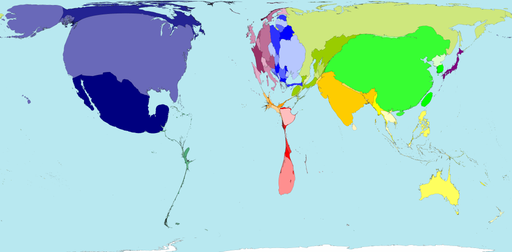 8000 000 000 000 (8 trillion) metric tonne-kilometres of rail freight were carried in 2003. A tonne-kilometre is one metric tonne travelling one kilometre. A metric tonne is 1000 kilograms; a kilogram is the weight of one litre of water.
As most trains carry many tonnes of freight the total number of kilometres travelled by trains will have been far fewer than 8 trillion. The largest total amount of rail freight carried is in the United States, Russian Federation and China. In contrast 64 territories (out of 200) have no rail system and hence carry no rail freight.
"This is the Night Mail crossing the Border, Bringing the cheque and the postal order, Letters for the rich, letters for the poor, The shop at the corner, the girl next door" W.H. Auden, 1936
Territory size shows the proportion of the worldwide metric tonne-kilometres of rail freight carried there.