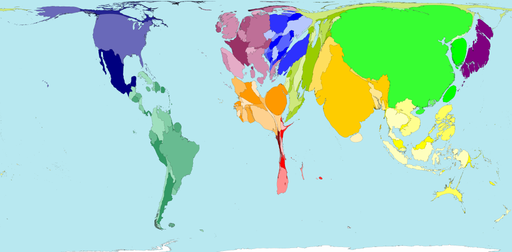 This map shows where people who have electricity supplied to their homes live. Electricity access includes that sourced from a publicly used grid and self-generated electricity (possibly from solar, wind or hydroelectric sources). This map shows access, not the quantities of electricity used.
The percentage of people with access to electricity in their own homes is over 97% in Eastern Asia, Eastern Europe, North America, Western Europe and Japan. 7 of the 10 territories with the lowest access to electricity are in Southeastern Africa.
Electricity in homes can be used to power lighting, heating, cooking, radios, televisions, computers, washing machines, and other appliances.
"Have you ever thought about what you would have to give up or how much work and effort you would have to dedicate to daily activities if electricity did not help you?" Prazká Energetika, 2005
Territory size shows the proportion of all people with some electrical power in their homes living there.