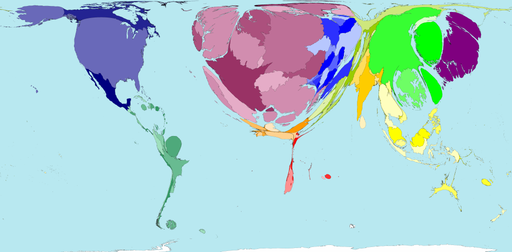 Secondary exports are manufactured goods, such as clothes, processed foods and cars. In 1990 US$ 3432 billion was earned worldwide from exporting these goods (US$ 1755 billion was made from primary exports in the same year). Secondary exports constituted more than 90% of all the exports of the 5 highest exporting territories.
Western European territories accounted for 38% of the value of secondary exports in 1990. Of these territories, major exporters were Germany, France, Italy and the United Kingdom. Many of these exports were moving between European territories.
"If my orders go down, if I cannot match the prices that my customers are looking for, if my volumes shrink, that will have a direct impact on the people I employ ..." Subrat Dhital, 2004
Territory size shows the proportion of the value of all secondary exports in 1990 that came from there. This is measured in US$ by Purchasing Power Parity, meaning that the values reflect the local cost of living.