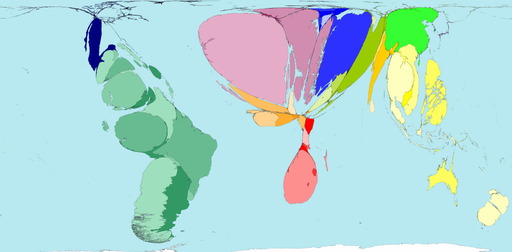 South American territories export twice as much fruit (net) as territories in any other region, except for Western Europe. Net exports are shown when positive. That is when more is exported than is imported. As almost every territory within South America has positive net fruit exports, they all appear on the map here. This is also the reason why the regional net total of exports for South America shown below are so significant. Whereas, as a region, Western Europe is not a net exporter.
Territories located more than 50 degrees of latitude North are rarely net fruit exporters.
"Originally a native of Mexico, the papaya has been grown in Southeast Asia since the 16th century and the long yellow or orange fruit, rich in Vitamins A and C, is a well-established component of Thai cuisine." Phuket-Plaza, 2005
Territory size shows the proportion of worldwide net exports of fruit (in US$) that come from there. Net exports are exports minus imports. When imports are larger than exports the territory is not shown.