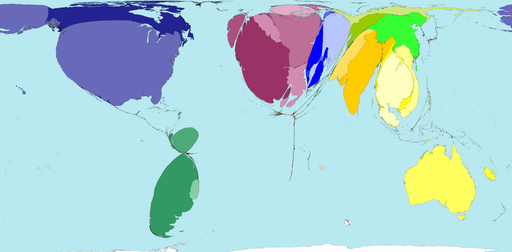 Cereals include wheat, rice, barley and maize (sometimes called corn). Cereals provide the main carbohydrate component of our diets. The United States, France and Australia are the three largest net exporters of cereals. Rich territories make the most money per person from net cereal exports.
No region dominates the map of cereal exports. At least one territory in each region has net exports. Nevertheless Africa, the Middle East, Eastern Asia, South America and Japan, as regions, have net cereal imports. This suggests that the net exporting territories within these regions do not meet regional demand.
"Lao food is traditionally eaten with sticky rice, with the fingers. In the countryside, people will all eat family style, sitting on the floor, sharing a few dishes." Visit Laos, 2005
Territory size shows the proportion of worldwide net exports of cereals (in US$) that come from there. Net exports are exports minus imports. When imports are larger than exports the territory is not shown.