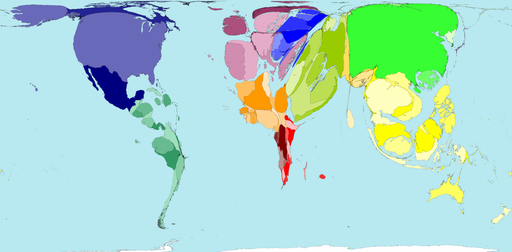 Of the 200 territories mapped here, 162 are net steel importers. Major steel-importing territories are China and the United States, followed by Thailand, Mexico and Malaysia. The territories with the lowest net steel imports are islands in Asia Pacific: Niue, Nauru, Kiribati and Palau.
Whilst steel imports (US$ net) to China are 12,500 times larger than those to Niue, Nauru, Kiribati and Palau combined, the net import value per person is very similar. However, compared to the United States, people living in these Asia Pacific islands, and China, import (US$ net) less than a quarter of the value of steel per person.
"Indian steel products are currently being exported to Pakistan via Dubai. North Pakistan gets imported steel and steel melting scrap via Karachi, over 1,500 km away ..." Anand S T Das, 2006
Territory size shows the proportion of worldwide net imports of steel (in US$) that are received there. Net imports are imports minus exports. When exports are larger than imports the territory is not shown.