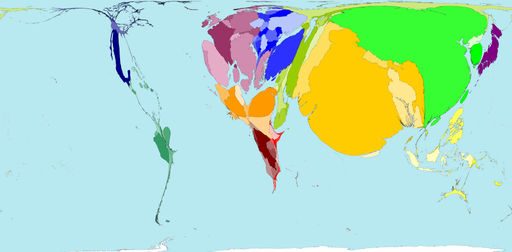 The population two thousand years ago is estimated to have been 231 million. At this time North and South America were sparsely populated, as was Asia Pacific. The estimated population of New Zealand was zero. Southern Asia, Northern Africa, China and Southern Europe (parts of the same land mass) had relatively high populations. Colder Northern latitudes tended to have lower populations.
The territories that now encompass the Ganges, Tigris, Yangtze, Nile and Po rivers were the most populous.
"1 AD Gregorian calendar, 3761 Hebrew calendar, 7.17.18.13.3 Mayan calendar, 544 Buddhist calendar" Anna Barford, 2006
This map shows the distribution of the world population in 1AD.