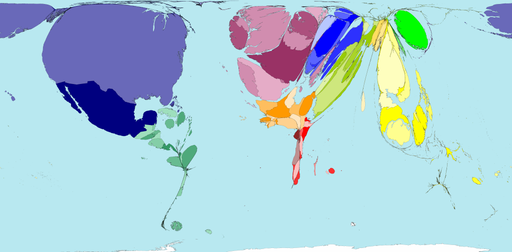 North America brings in the highest net regional metal imports, receiving 82% of all regional net metal imports. The two territories importing the most metals worldwide (US$ net) are the United States and Mexico.
Three quarters of territories are net metal importers (one quarter are net exporters). The territories with the highest net imports within other regions are: Angola in Central Africa; Botswana in Southeastern Africa; Algeria in North Africa; Bangladesh in Southern Asia; Thailand in Asia Pacific; Saudi Arabia in the Middle East; Taiwan in Eastern Asia; Guatemala in South America; Hungary in Eastern Europe; and the United Kingdom in Western Europe. There are more exports of metal from, than imports to Japan.
"Mankind has been using copper, lead and tin for thousands of years and yet today more aluminium is produced than all other non-ferrous metals combined" World Aluminium, 2000
Territory size shows the proportion of worldwide net imports of metals (in US$) that are received there. Net imports are imports minus exports. When exports are larger than imports the territory is not shown.