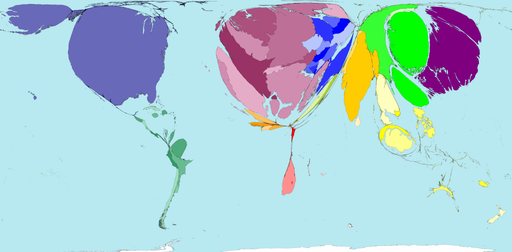 Singapore imports (net) more crude petroleum than anywhere else, when this is measured per person. The value of imports per person is US$ 1808 per year. Burundi has the lowest value of net imports of crude petroleum per person: 0.02 US cents worth is imported per hundred people that live there.
One explanation for this difference between Singapore and Burundi is as follows. Singapore is a rich island well positioned on trade routes, so can afford to receive large amounts of oil per person. Burundi is a poor landlocked central African territory, so there are many barriers to imports.
"Aside from the effects of high oil prices, growth in imports in general can be interpreted as a sign that domestic demand is robust, another reason to say that the Japanese economy is on the right track ..." Koji Kobayashi, 2006
Territory size shows the proportion of worldwide net imports of crude petroleum (in US$) that are received there. Net imports are imports minus exports. When exports are larger than imports the territory is not shown.