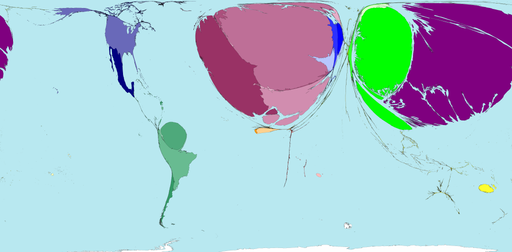 Vehicles include lorries, car parts (but not cars), bicycles, motorcycles, mopeds, trains, buses, ships and aeroplanes. The export of these vehicles accounts for 6% of all earnings from international exports.
Only 27 territories out of 200 have net vehicle exports (US$). Of these, the major exporters are Japan, Germany, France and the Republic of Korea. No territories in South Asia, the Middle East, Central Africa or Southeastern Africa had net vehicle exports.
Japan exports the most vehicles (net US$) when measured per person and in absolute terms. Japan is also the highest net exporting region.
"We'll sell a lot more than 250. We'll sell 700 or 750. You know it is a plane which will fly for 30 or 40 years." Noel Forgeard, 2005
Territory size shows the proportion of worldwide net exports of vehicles (in US$) that come from there. Net exports are exports minus imports. When imports are larger than exports the territory is not shown.