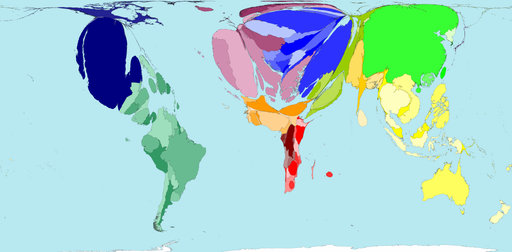 Most territories in the world are net importers of chemicals. These imported chemicals are most likely to come from the Western European territories with no area on this map.
China and Mexico import the highest values of chemicals (US$ net). Together people living in these territories import 28% of all net imports. This percentage of worldwide imports received by the two highest importers is considerably lower than the same number for other products. For example the clothing imports to the United States and Japan are 58% of all net (US$) imports. The difference is partly because so many other territories also import chemicals.
"... new chemicals come from our laboratories in an endless stream ..." Rachel Carson, 1962
Territory size shows the proportion of worldwide net imports of chemicals (in US$) that are received there. Net imports are imports minus exports. When exports are larger than imports the territory is not shown.