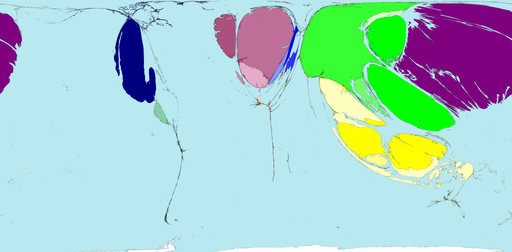 Asian territories are the major world-supplier of electronics. In particular Japan, China, Taiwan and Malaysia. As 85% of territories import (net) electronic items, these exporting territories are from where these demands are met. These territories, with others, are sometimes referred to as Asian Tigers, or Tiger economies. This is claimed to be due to their high growth, rapid-industrialisation and export-driven trade strategies.
Worldwide, electronics exports generate 10.2% of all money earnt from trade in goods. Electronics include television and radio receivers, photography equipment, and electro-medical equipment.
"The ability of nations to compete globally is not a function of size, as Korea, Taiwan, Singapore, Hong Kong, and Malaysia demonstrate." Michael J. Kelly, 1997
Territory size shows the proportion of worldwide net exports of electronics (in US$) that come from there. Net exports are exports minus imports. When imports are larger than exports the territory is not shown.