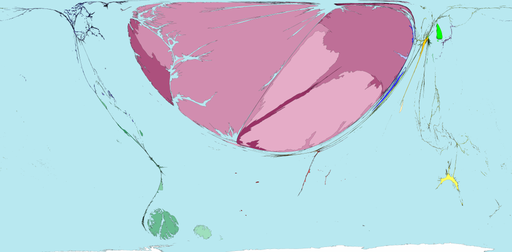 Of all the net finance and insurance services exports in the world, 99% of the profit flows to territories in Western Europe. Despite this, almost half of the 24 territories in Western Europe have no net finance and insurance services exports. The main exporting territories for these services are the United Kingdom, Switzerland, Germany and Luxembourg. The Malvinas (or Falkland Islands) are large on this map because they are resized according to the United Kingdom data.
"Edward Lloyd opened a coffee shop on Tower Street in London in 1688, and that one turned into Lloyds of London, insuring the world." Jack Schofield, 2006
Territory size shows the proportion of worldwide net exports of finance and insurance services (in US$) that come from there. Net exports are exports minus imports. When imports are larger than exports the territory is not shown.